By Steven Wandling
Love it or hate it, uber-producers Ryan Murphy and Brad Falchuck's horror anthology FX series American Horror Story is an absolute sensation. Far from the best anthology show of its kind, even in recent memory, the numbers simply can't be ignored. AHS is something that horror fans look forward to watching every single year, even if they know that sooner or later it's probably going to fly completely off the rails and go straight into what the fuck is this now? territory.
The show has been an extremely mixed bag thus far with admitted highs (Murder House, Asylum, Coven) and some serious lows (Freak Show, Roanoke, Apocalypse). This time the show is changing things up, taking viewers back to the 1980s with AHS: 1984, the series' homage to the classic American slasher of a bygone era. The question is are the ever-evolving ensemble cast and show-runners of 1984 able to convincingly pull off a slasher that feels like a love letter to the genre in a unique and entertaining way? If the series premiere is any indication…maybe.
It really is such a hard thing to gauge this early on when dealing with a show notorious for throwing enough shit at the wall each week to warrant bio hazard suits for viewer safety. The best thing 1984 could do is give audiences what the really fun promos have promised: a bloody retro slasher that pays homage without feeling like it's something that is just aping better works for the sake of nostalgia. The premiere episode, "Camp Redwood," mostly succeeds in this mission.
"Camp Redwood" borrows a lot in its setup. It was actually a little too close on a narrative level in its homage to the point of boredom on occasion, but for the most part it was a fun and visceral premiere that did a good job of setting up the familiar camp slasher tropes with the same AHS feel that people have come to love and expect.
For starters, the cold open comes off like a much nastier, giallo-inspired version of the opening of Friday the 13th (1980). Grainy footage of a black-gloved mask wearing killer (later revealed to be local boogeyman legend Mr. Jingles (John Carroll Lynch) goes on a camp killing spree that's surprisingly graphic and well shot. Seasoned horror fans will get a quick thrill from the sequence and casual viewers should get quite a jolt. It's a wonderful scene to kick off the new season that is seemingly telling a more straightforward narrative this time around.
One of the things that is always enjoyable regardless of the following episode is the opening credits sequence of AHS. It has always been, hands down, one of the most creepy, effective opening titles in modern television. 1984 takes a risk by changing it up this season. Listen closely and it's the same score, but it's buried underneath a wonderful synth rendition that hearkens back to the era the show is trying to capture. Throughout the entirety of "Camp Redwood," the pulsing John Carpenter (Halloween) influenced score goes a long way in helping 1984 achieve its atmosphere. Wherever the season goes, there will at least be great music leading the way.
"Camp Redwood" throws a little too much out there, as is the biggest problem I always had with this show. The main story seems fun and interesting, revolving around a group of 80s archetypes working as camp counselors at the newly reopened "Camp Redwood." Why then throw in a completely unnecessary subplot about Brooke Thompson (Emma Roberts) being attacked by real-life serial killer Richard Ramirez aka The Night Stalker? Because it's American Horror Story and they just can't help themselves. The episode opens at a gym populated by a bunch of twenty-something fitness fanatics. Aside from Roberts, there's returning AHS alumni Billie Lourd as Montana Drake and Cody Fern as Xavier Plympton, along with newcomer Gus Kenworthy as Chet Clancy.
Each of the characters is a fun sendup of stock characters of one kind or another. Montana is a hair metal girl that's literally referred to as Van Halen at one point in "Camp Redwood." Cody feels ripped straight from a Brett Easton Ellis novel like Less Than Zero with his me generation attitude and aesthetic. Chet is the workout buff who almost made it to the Olympics, but was kicked off the team after testing positive for steroids. It's important to note that while they are poking fun at 80s stereotypes, the characters actually never feel like parody for parody's sake. These are walking, talking individuals that should be cared about, which is an essential ingredient in the success of a slasher when the body count starts piling up.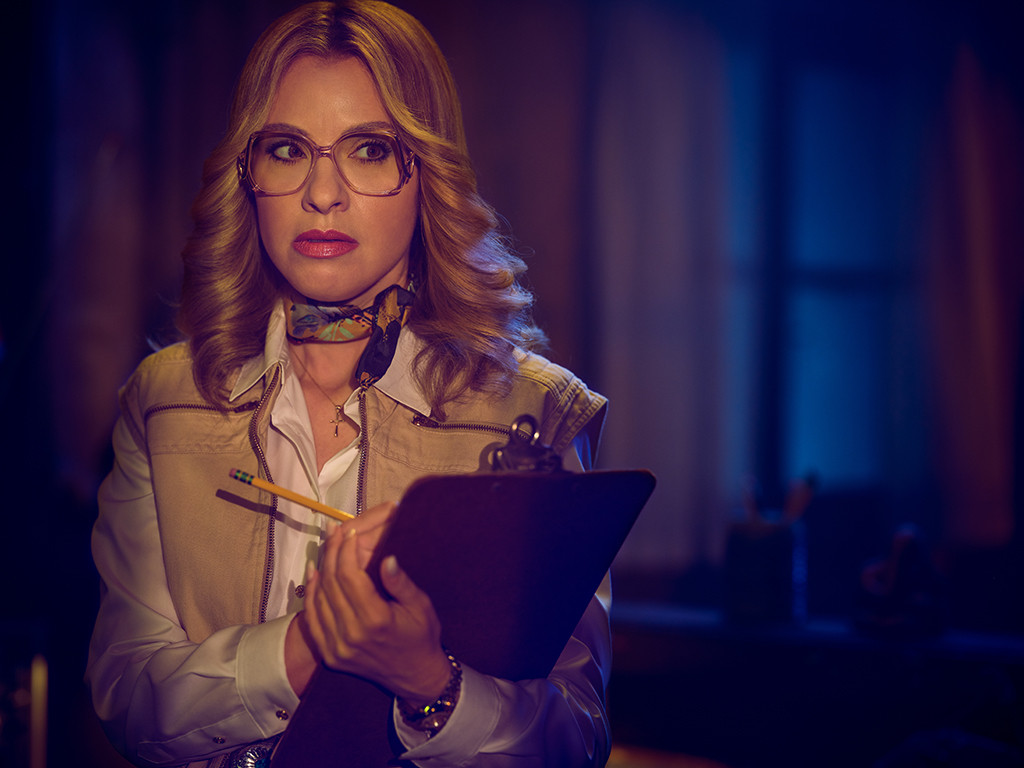 Another AHS veteran that definitely makes an impression is Leslie Grossman as camp runner (and Mr. Jingles' massacre survivor) Margaret Booth. The only survivor from the opening sequence when she was a child camper, I'm going to go ahead and make a prediction that Margaret Booth is the second killer that no one was supposed to see coming. Any takers?
"Camp Redwood" starts AHS: 1984 off to a pretty solid start with enough horror throwbacks and allusions (Carrie, Halloween, Friday the 13th) to keep any horror fan happy without solely paying fan service. The characters seem interesting enough, and the pulsating synth score is an absolute standout. Aside from some all-too-familiar signs (including that cliffhanger) that it's only a matter of time before the season skyrockets into cartoonish absurdity, 1984 just may prove to be the most entertaining season of the anthology juggernaut yet.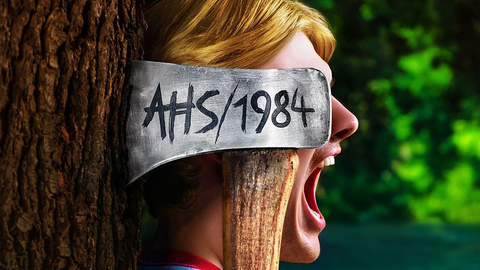 American Horror Story: 1984 airs on FX every Wednesday night at 10PM. Thanks for reading! If you like what you've read, please share to your horror loving friends! Stay tuned for weekly coverage right here at Creepylovely! Please follow us on Twitter, Instagram, and Facebook! If you would like to write for us just send us a private message or DM on social media! Stay creepy!