by Steven Wandling
Jovanka Vuckovic is already a legend in the horror genre. She was the editor-in-chief of Rue Morgue magazine for over six years before making her first short The Captured Bird (2012), co-produced by none other than Guillermo del Toro (Pan's Labyrinth, The Shape of Water). In 2016, she was part of the all-female horror anthology XX, writing and directing an adaptation of Jack Ketchum (The Girl Next Door)'s "The Box." XX was not only groundbreaking in its perspective, but it's one of the best horror anthologies to date. That's a recurring theme in Vuckovic's career, the championing of women in film, both in front of and behind the camera. Her first full length, Riot Girls, is no exception. The film takes off like a bat out of Hell from the first frame and never loses that intensity.
Riot Girls is an absolute blast that follows the denizens of small town Potter's Bluff after a mysterious black rot gut kills all of the parents in the town, leaving the kids to fend for themselves. Faster than you can say Lord of the Flies, the kids split the town right in two, cutting the east side of town off from the west. This couldn't be more representative of struggles as old as time, not to mention frighteningly more prescient and plausible by the day. The east side of town is run like a punk rock/hippie/artist's commune where there's not much uniformity, but there is a lot of passion and creativity. The east side kids look out for each other and provide so much hope throughout Riot Girls, especially the leads Scratch (Paloma Kwiatkwoski) and Nat (Madison Iseman). Scratch and Nat are the center of Riot Girl, and Vuckovic couldn't have gotten two better people to give such hopeful, wounded and nuanced performances. It's not that Scratch and Nat haven't been through as much trauma as the kids on the west side of Potter's Bluff, far from it: they just haven't let the world dictate their humanity.
Across town on the west side things couldn't possibly be more different. If the east end is a commune, then the west side operates more like the center of the Third Reich by way of Cobra Kai. The color palettes are bright blues and yellows, matching the school colors the titans wear in their matching varsity leather jackets. The titans run the west side from their old high school, and it is an entirely different world from the east end. Titan leader Jeremy (Munro Chambers) gives such a terrifying and hilarious performance in Riot Girls. It's so much fun to hate this guy and his asshole number two man Todd (Darren Eisnor), who the movie explicitly states when introducing that he would "definitely sweep the leg." That may not seem like all the introduction needed for a character with significant run-time, but with Todd, it's more than that prick even deserves. Sorry to Darren Eisnor. Hey, it just (hopefully) means you're a good actor.
The titans very much operate as a gang full of the biggest assholes from every high school in America. They are extremely fascist, from the constant importance of the school colors, the varsity uniforms, to the importance of your group as opposed to yourself, a severe lack of humanity for just about anyone, and a never-ending faith in dear leader Jeremy. My pick for biggest asshole Titan is Devon (Evan Marsh). He's that guy in high school that tried to be nice to everyone while still never having the balls to stand up to the asshole jocks he quietly emulated and went along with. Fuck this guy. Everyone knows this guy, and he's a dick. He'll be the one that ends up doing something heinous to prove himself in the end. Just wait.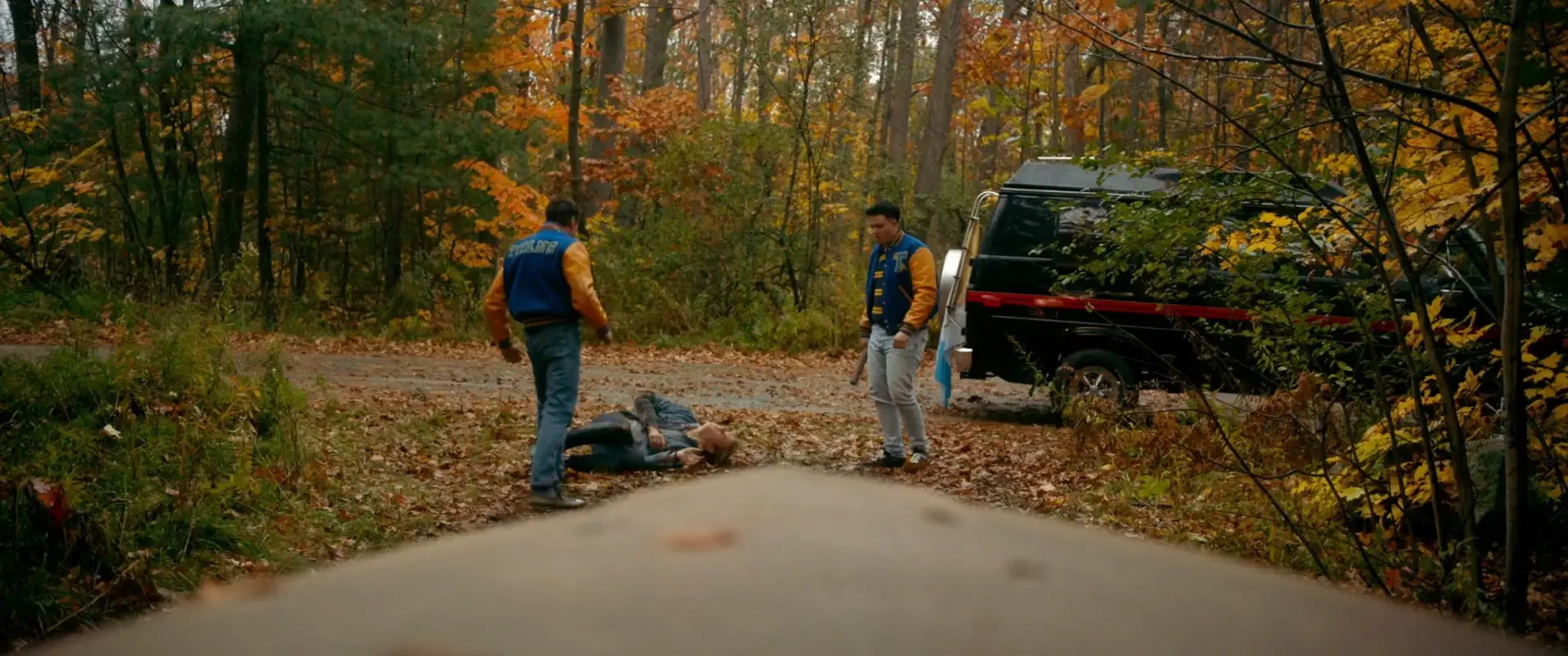 So what brings these two opposing worlds together to fight it out in the post-apocalyptic suburban wasteland of Riot Girls? Nat's older brother, Jack (Alexandre Bourgeois), is out on a run to steal some much needed supplies from a Titans crew when he accidentally hits a kid named Sony (Ajay Friese) with his van. Sony's a kid from the west side who was just trying to escape another beating from the titans and get home. The east side looks to Jack as their leader. He goes back to the van on suspicions that there's something else more valuable hiding inside and is kidnapped by Todd and a couple of his lackeys. Now it's up to Nat, Scratch and Sony to make the extremely dangerous road trip across town from east to west; from one world to an entirely different and potentially fatal one.
Riot Girls is expertly directed to be a first featture. Jovanka Vuckovic is definitely a name you should already know, but you definitely won't forget it after seeing her new film. She moves beyond horror with Riot Girls and delivers a fast paced, violent as hell road movie that owes as much as it does to Repo Man (1984) Class of 1984 (1984) and gang films like The Warriors (1979) then it does to anything specifically horror. For such a dark and violent story part of what also sets Riot Girls apart is the aesthetic of the film. The comic book panel transitions really add to the punk rock attitude of the entire affair, and there's so much more humanity and characters on both sides of town to actually root for that the film feels populated with all your best friends doing their best to create a new and better world out of the old. Sure, nothing is guaranteed and the fascist titans may end up on top but you won't know until you buy the ticket and take the ride. Riot Girls is one ride you will not regret taking over and over again.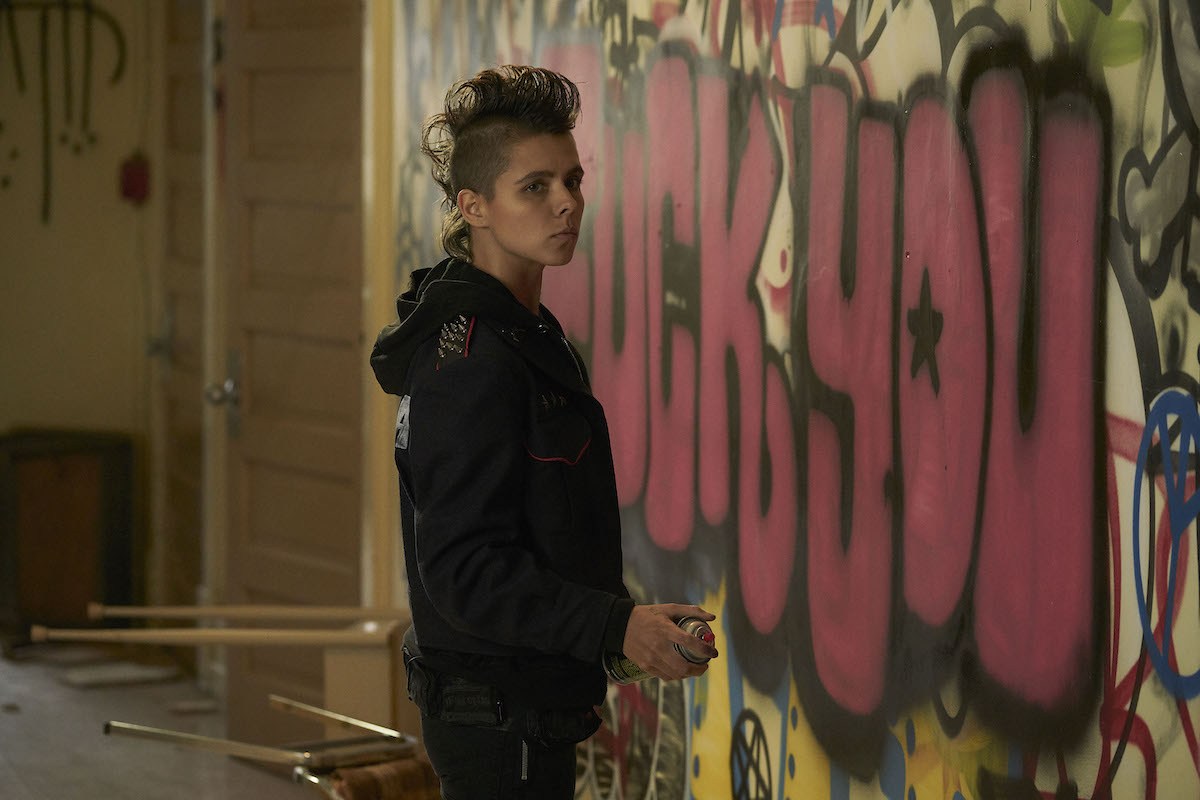 Riot Girls was released in theaters and on demand September 13th, 2019. Thanks for reading! If you Like what you've seen, than please share with your cinema loving friends! Please follow creepylovely on Twitter, Instagram, and Facebook! If you would like to contact or write for us just shoot us a message or DM on social media! Stay creepy!