by Steven Wandling
Ten years ago, Zombieland was an absolute smash horror-comedy from first-time director Reuben Fleishcer. Featuring a cast of then up-and-comers Jesse Eisenberg (The Social Network), Emma Stone (La La Land), and Abigail Breslin (Little Miss Sunshine), and anchored by veteran Woody Harrelson (Natural Born Killers), Zombieland arrived riding high on the crest of the 21st century zombie resurgence. The film had a unique blend of action and humor that made it stand out among the ever-growing herd of zombie-centered entertainment that would soon make zombies at risk of being irrelevant again. It's hard to think of a world without it, but at the time of the original film's release The Walking Dead was still a year away from its transition as a genre-favorite comic series to a full-blown global phenomenon that would irrevocably change (for better or worse) how the world viewed zombies.
Fast forward a decade to 2019 and Reuben Fleischer is a household name with such heavyweight comic book fare under his belt as last year's Venom. Jesse Eisenberg, Emma Stone, and Abigail Breslin are all Oscar nominated performers and some of the biggest names in their respective generation of film stars. Woody Harrelson received rave reviews for his turn in HBO's tentpole series True Detective in the meantime, which pretty much reinvigorated water cooler talk in ways not seen since the glory days of Twin Peaks. With all this success and a seemingly perfect first time out in the world of Zombieland, why oh why would anyone want to mess that up? The idea of a sequel alone felt forced and a bad idea. There was no way this was going to live up to the hype of any imagined sequel or bring any significant ideas to the table…at least that's what some are trying to espouse.
The only problem with that flawed logic is that everything about Zombieland: Double Tap works like gangbusters. The entire film fires on all cylinders and never lets up. The reason Double Tap works so well is because the film applies an 'if it ain't broke don't fix it' mentality to the entire proceedings. This film could have come out a long time ago if it weren't for getting everyone's schedules realigned one has to imagine. The public should feel lucky to spend more time in this world. The opening sequence is an absolute sendup of the current slow motion style action sequences that have permeated most mainstream big budget action films in recent years. There's just something hysterical about watching Columbus (Jesse Eisenberg), Witchita (Emma Stone), Little Rock (Abigail Breslin), and Tallahassee (Woody Harrelson) storm the actual White House and set up shop there for a decade playing house. The sequence is totally aware of how silly it is but also totally badass at the same time. That's pretty much how the entirety of Double Tap plays out.
Fleischer's sequel (scribed by Deadpool writers Rhett Reese and Paul Wernick with Dave Callahan) comes off like an old group of friends that have stopped by who you haven't seen for a long time, but instantly fall back into the same old jokes and brain-splattering zombie kills. Double Tap may not feel as special as its predecessor, but it's every bit as witty. The added experience behind every player involved on both sides of the camera seems to have only made everyone better at the game they were already deft at playing. Usually sequels like double Tap don't come close to working for me personally.
Double Tap checks off every box of things that usually would annoy the hell out of me as a viewer, but just magically work here…and work exceedingly well. The celebrity cameos are few and far between instead of being stuffed to disguise that most sequels don't really have a reason to exist outside of the almighty dollar. Rosario Dawson (Sin City) shows up as Elvis enthusiast Nevada, Luke Wilson and Thomas Middleditch pop up for an absolutely hilarious cameo as two basic clones of Eisenberg and Harrelson. If anything, the cameo could have lasted longer. It's a joyful sequence that in no way feels gratuitous or unnecessary. If anything, you miss these characters the minute they're…well…double-tapped.
In the end, much like the original Zombieland, the end result is way more about heart and family than it is about guts and brains. Now, don't get me wrong. There's plenty for any avid zombie fan to bite into in Double Tap and make sure you stick around for the post-credits, which is also something I would never normally say. Just trust me on this. Stick around. Go in to Zombieland: Double Tap expecting a reinvention of the wheel or a great leap forward in zombie cinema and you're going to walk out disappointed, but go in looking for a blast of an action-comedy anchored with great performances from familiar faces and new alike (especially Zoey Deutsch as the ditzy Madison) with some of the funniest apocalypse fighters in this dystopia or any and you will not be disappointed. Just don't forget your cardio.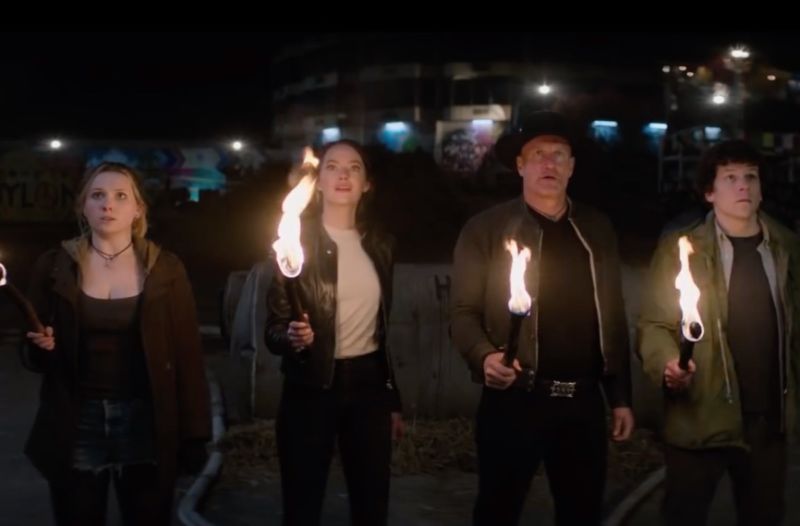 Zombieland: Double Tap is playing in theaters nationwide now! Thanks for reading! Please read and share with your zombie loving friends and don't forget to follow Creepylovey on Twitter, Instagram, and Facebook. If you would like to write for us just shoot us a DM or private message on social media. Stay creepy!