by Steven Wandling
Appalachia's favorite undead bastard sons of horror punk and Horrorhound Records signees The Big Bad stopped by the world famous Empty Glass in Charleston, West Virginia for an intimate yet rowdy gig with fellow Star Trek punk upstarts Boldy Go!. Currently on tour, The Big Bad is a force to be reckoned with, an act that you don't want to miss if they creep like a inexplicable fog through your town. Going 15 years strong and surviving multiple lineup changes, The Big Bad currently consists of Zackula Von Nasty (lead vocals/songwriter/band leader), longtime member Wolfman Jack (saxophone and keyboards), Chud T. Nelson (rhythm guitar) David DuPraved (lead guitar), Dick Gross (string bass), and Andris Devine (drums).
The Big Bad stand out among a crowded pack of horror punk bands with the passion that they put into their music mixed with a cry of desperation from people that were born nowhere, surrounded by ghosts, and in many ways, isolated from a lot of opportunities that bands from elsewhere of their caliber would have had handed to them on a silver platter. They took all of the angst of growing up in an area that time passed by long ago, threw it in a blender with a never-ending love of all things horror, and shined a big bright signal in the night for all boils and ghouls to gather, dance, and shout those demons away.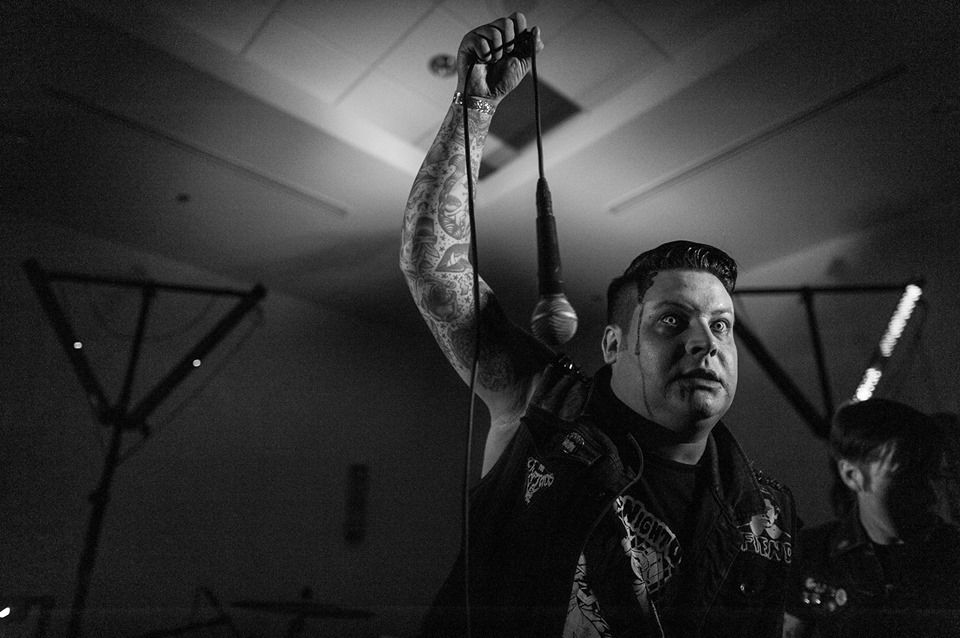 Their last self-titled album is filled with all killer and no filler, with such songs as "Shadowbrook Road" throwing love toward a classic (the Monster Squad) and internalizing it from a first person point of view. It's more than just fan service. The Big Bad believe in the power of rock and roll, horror, and gathering to celebrate both. Album opener "Shine the Signal" is the rallying cry for horror punk fans. It stands up there with anything by any other punk band, horror influenced or not, as a call to arms anthem and works a lot better than many bigger anthems.
They peppered their set with fan favorites like "Out of the Morgue," and "Maniac Mansion," which is one of the catchiest songs any fiend will hear anywhere. There's a classic rock and roll element that makes most Big Bad shows feel like the best after prom party in Hell, and a lot of that credit has to go to the additions that Wolfman Jack makes on the saxophone and keyboards. While too many horror punk bands simply emulate the Misfits, the Big Bad have a constantly blast testing their limits. Their influences consist of a lot of doo wop, 70s pub rock and straight up no frills three chord punknroll.
Long awaited new album Hexed, currently slated for release in March 2020 on Horrorhound Records, is worth an entire article all on its own. (Hopefully someday we will run it.) In the meantime, be sure to grab both The Big Bad (2014) and After Dark (2009), which they pulled some fan favorites from at this show as well like "Transylvania is for Lovers" and "May All Your Nightmares Come True." The Big Bad are travelling through the night toward a town near you as you read this. Don't be foolish, get out there and shake those bones with some of punk rock's finest (undead or otherwise).
I would be remiss if I did not mention the opening band, Star Trek Ramones influenced punk rockers Boldly Go!. The punk rockers kicked things off Friday night with a hilariously self-aware rollicking good set of mostly variations on Ramones classics made to fit into the narrative of the Star Trek universe. It's a fun shtick that works way better than it ever should on paper. Led by longtime regional musician, madman, film lover, and friend Foz Rotten (vocals), Boldy Go! is rounded out by Alex Smith (guitar), Rusty Felty (bass), and Chris Gibson (drums).
On top of the Ramones meets Captain Kirk shout alongs permeating their brief but triumphant opening set, the band then transitioned into every horror punk's wet dream: a medley of misfits and danzig songs dubbed as "the Glen Danzig hour of power." Boldy Go! proved to be the perfect band to set the stage for Appalachia's favorite undead sons, and be sure to keep an eye on their social media for more exciting things to come from them in the future. So please follow them @boldlygoband on Instagram, Twitter, and Facebook for all upcoming Boldly Go! news and tour info.
Tonight The Big Bad is playing in Philadelphia at the Tusk on South Street and you can catch them again tomorrow night in Queens at Katch Astoria (where they have promised to kiss the ground and tell New York I said hello.) They will be back in West Virginia next Friday night at Huntington's The V Club for another night of horror rock and roll straight from the Devil himself, as God intended. If anyone needs me I'll be there shining the signal. I'm in the goddamn club aren't!?
Thanks for reading! Please share this with your horror music loving friends! You can find merch and music from the Big Bad through https://thebigbadmusic.bandcamp.com/album/the-big-bad and be on the lookout for their upcoming new record Hexed on Horrorhound Records. If you like what you've read please follow us on Twitter, Instagram, and Facebook. If you would like to write for creepylovely, just shoot u a private message or DM on social media. Stay creepy!